Chad Robichaux & Jeremy Stalnecker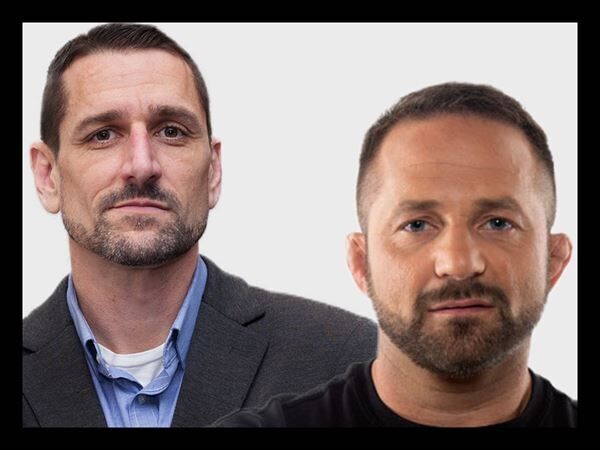 Hosts Chad Robichaux and Jeremy Stalnecker bring you today's foremost experts with in-depth concise conversations, from a conservative Christian viewpoint. Providing you with information you need to navigate an ever changing culture.
Show Links:
---
Chad is a former Force Recon Marine and DoD Contractor with eight deployments to Afghanistan as part of a Joint Special Operations Command (JSOC) Task Force and is also a former professional Mixed Martial Arts (MMA) Champion. He is president and founder of Mighty Oaks Foundation, one of the most impactful nonprofit organizations serving our military and first responder communities.

After overcoming his personal battles with PTSd and nearly becoming a veteran suicide statistic, Chad founded Mighty Oaks to serve military communities with one of the most effective faith-based combat trauma and resiliency programs available anywhere. Having spoken to over 150,000 active-duty troops and led life-saving programs for over 3,300 active military and veterans at four Mighty Oaks Ranches around the Nation, Chad has become a go-to resource and is considered a subject matter expert on faith-based solutions to PTSd, having advised the current Presidential Administration, Congress and highest levels of the United States Military. Currently, Chad serves as the Chairman for the Faith Based Veterans Service Alliance (FBVSA) collaborating with the White House on behalf of a coalition of faith based Veteran Service Organizations.

Chad has earned an MBA from New York Institute of Technology (NYIT) and is a board-certified pastoral counselor with a focus on PTSd. Chad is married to his wife Kathy of 25 years, and they have a daughter and two sons. Hunter is the 3rd generation Marine Combat veteran in the Robichaux family.

Chad is a bestselling author and has written five books related to veteran care donating over 100,000 copies to the troops during his resiliency speaking tours. He is regularly featured on national media, such as, Fox News, The O'Reilly Factor, CNN, The Blaze, TBN, The 700 Club, OAN, USA Today and has appeared in a short film by I Am Second. Currently, his life-story is being made into a feature length motion picture based off of Chad's book, An Unfair Advantage – Victory in the Midst of Battle.

In addition to Chad's military service, he has served our nation as a Special Agent with the US Federal Air Marshal Service and the US State Department as a Surveillance Detection Senior Program Manager. Chad is a Medal of Valor recipient for his bravery beyond the call of duty in law enforcement. Outside of his work with veterans, Chad and his sons train and teach Brazilian jiu-jitsu. He is a third-degree black belt under the legendary Master Carlson Gracie Jr. and a former Pro MMA world champion who has used his platform to advocate for civilian support of America's warriors returning home while competing in the sport's biggest events such as NBC's World Series of Fighting, StrikeForce, Bellator FC, and Legacy FC.

Chad is a top resource, subject matter expert and speaker to the DoD (Department of Defense) and US Military on the topics of Resiliency, Spiritual Resilience, Suicide-Prevention and Post Traumatic Stress. Chad has written several books on these subjects to include a #1 Best Seller, testified in veterans court and has even advised the current presidential administration on best practices. Chad has spoken to over 100,000 active duty troops from all military branches at various commands and resiliency conferences; such as Pre-deployment Programs, USAF Yellow Ribbon Resiliency Programs, Naval Special Warfare (SEAL) Resiliency Conferences, Spiritual Resiliency Events & Command Prayer Breakfasts and is a on-going speaker for USMC Boot Camp at MCRD San Diego, Ca.

Jeremy Stalnecker is the Executive Director of the Mighty Oaks Foundation. The Mighty Oaks Foundation is dedicated to helping America's military warriors and their families who are suffering from the unseen wounds of combat such as Post Traumatic Stress Disorder (PTSD).

While growing up in San Jacinto, CA, Jeremy's only goal in life was to leave home and join the Marine Corps. This dream was finally realized with an active duty commission in 1999. Following Infantry Officer Course in Quantico, VA, Jeremy was assigned to First Battalion, Fifth Marines, First Marine Division as an infantry platoon commander. Serving first as a rifle platoon commander in a helicopter company and then as the platoon commander of the counter-mechanized platoon, Jeremy learned valuable leadership and communication skills that he continues to use today. In January 2003, Fifth Marines, as a part of the First Marine Division, deployed to Kuwait in support of what would become Operation Iraqi Freedom. As the war began, First Battalion, Fifth Marines was the infantry battalion used to breech the berm separating Kuwait and Iraq and secured the first major objective of the war. This led to a road march that ended with the battalion occupying Baghdad and seizing the presidential palace in northern Baghdad on the Tigris River. Throughout this movement, Jeremy and the counter-mechanized platoon provided navigation and lead security for the battalion.

While in the Marine Corps, God was working in Jeremy's life to turn his heart toward full-time ministry. Just one month after returning from Iraq, Jeremy became a staff member of his home church at Coastline Baptist in Oceanside, CA. Here he gained ministry experience that would equip him for the further leading of God. In his role as an Assistant Pastor, he counseled and mentored many couples and individuals while also maintaining other church responsibilities. It was a great privilege for him to be able to serve in this capacity so close to Camp Pendleton since most of the people he worked with were either Marines or the family members of Marines.

In 2008, Jeremy and his family took on a new responsibility when he became the Senior Pastor, just east of San Francisco Bay at Bay Area Baptist Church in Fremont, CA. In this capacity, he continued to minister to families and individuals in a wide range of areas. After serving in the role of senior pastor for nearly seven years, the door leading to a full-time position with the Mighty Oaks Foundation opened. This move brought together both his ministry experience and military background in a way that allows him to serve and minister to many hurting veterans, service members and their families. Along with his wife Susanne and their four children, Jeremy works to reach the hurting and provide the healing found in Christ.