Saint Catherine of Sienna School, Rialto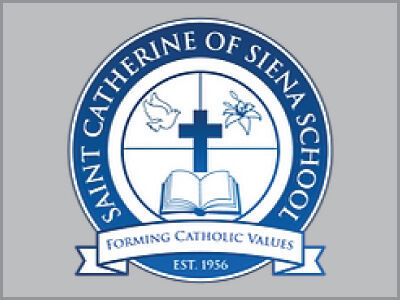 335 North Sycamore Avenue
Rialto, CA 92376

To Purchase a Half Price Tuition or for more information contact Randy Gale at (909) 521-3927 or via email at [email protected]. Half Price Tuitions will be sold on a first come, first served basis.
CLICK HERE FOR GOOGLE MAP AND DIRECTIONS
Grades Taught: Preschool-8

Grades Eligible for Half Price Tuition: K-5
St. Catherine of Siena School, a ministry of St. Catherine of Siena Parish since 1956, is called to invest in the needs of children academically and spiritually, while embracing their diversity. St. Catherine's serves all families seeking a quality Catholic education in the Inland Empire. As disciples of Christ, all students preschool through eighth grade, will have a comprehensive academic foundation needed to meet the demands of the 21st century. Towards this end, St. Catherine of Siena School is committed to the fulfillment of these most precious values: becoming Active Catholic Christians, Life Long Learners, Leaders, Persons of Global Awareness, and Responsible Citizens.
We believe that St. Catherine of Siena School is a community of Active Catholic Christians, Life-Long Learners, Leaders, Persons of Global Awareness & Responsible Citizens. We acknowledge parents as the primary educators, and in conjunction with them, guide students to a closer relationship with God as they meet the challenges of an increasingly secular society. We facilitate the spiritual, academics, social, emotional, and physical growth of our young people with the belief that they, in turn, will contribute to the growth of others through the use of their individual gifts.Students grow in the knowledge of their Catholic faith, in the understanding of their traditions, and in practice of moral values, as they encounter the living God. They grow in their understanding of and appreciation for each other's uniqueness, while participating in Christian service to others, through the St. Catherine of Siena Parish REACH Center. As Catholics, we see ourselves as one part of God's creation, and students learn that they are caretakers of the earth and its environment. They begin to form nurturing bonds of unity and love with all people and the universe, and become instruments of justice, harmony, and peace. 1/30/23

Qualifications: New students only. Tuition only. Please see School website for complete details.

Number of Vouchers: 6 Based on Availability 1/30/23

Tuition:
Grade K-5 (Regular Tuition $4,570 Catholic Church Member) - HALF PRICE TUITION $2,285
Grade K-5 (Regular Tuition $5,170 Non-Member) HALF PRICE TUITION $2,585 1/30/23
RG KTIE 1/30/23
AM590 THE ANSWER HALF PRICE FALL 2023 PRIVATE SCHOOL TUITION PROGRAM DISCLAIMER
Each tuition voucher is valid for the tuition cost for attendance at the specified school for the Fall 2023 School Year (not including Summer School). All other costs of attending the school, including books and supplies, uniforms, and fees to participate in sports or events, are not covered by the voucher and are the responsibility of the student and his or her parent or guardian. Only one voucher per school may be purchased or used by a household or family. Each voucher may only be used by a new student and not currently in the application/enrollment process prior to February 22, 2023. Purchase of a voucher does not guarantee admittance for a student to the specified school, and the student must meet all school admission, attendance, and conduct requirements to enroll and attend throughout the school year. The voucher is not transferable, non-refundable, non-cancellable and may be used only by a family or household member of the purchaser. The voucher is not returnable or redeemable for cash, except if a school confirms to AM590 The Answer that a prospective student with a voucher completed all application requirements but was not admitted to the school, in which case upon request by the voucher purchaser AM590 The Answer will refund the cost paid to AM590 The Answer for the voucher. The voucher purchaser should consult with his or her tax advisor concerning the tax treatment of payment of tuition using the voucher.

.

Location:
Saint Catherine of Sienna School
335 North Sycamore Avenue
Rialto, CA 92376
Google Map