Don Dix Thursday Commentary - January 23rd, 2020
Parent's Rights Go Up In Smoke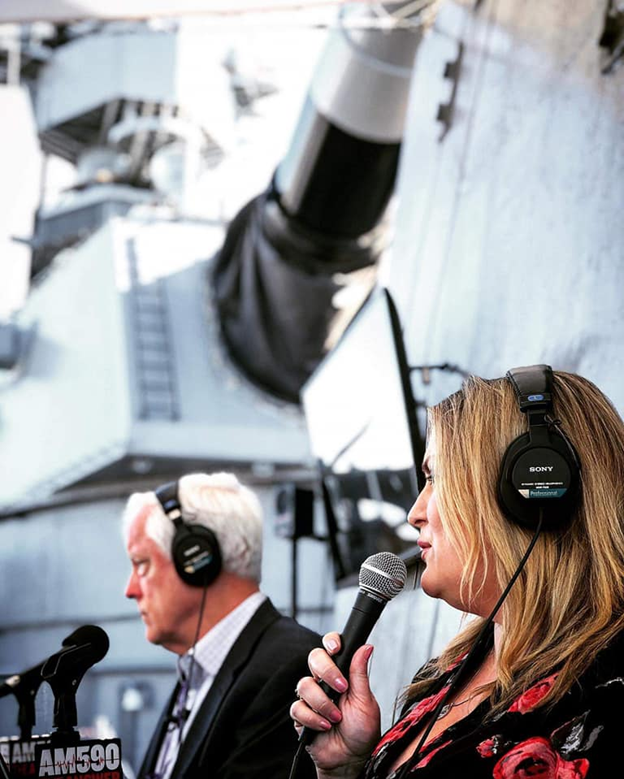 (Pictured) The Jen and Don Show at the Battleship USS Iowa during Fleet Week.
While DC Democrats are clamoring to remove a president, don't lose track of the games Sacramento Democrats are playing with our parental rights.
Senator Morrell's parental rights affirming proposed law, SB673, was a regular topic on our show leading up to it's crucial vote in the Senate Education committee. It addressed major complaints heard across the state by parents about the brand new Comprehensive Sexual Education, aka SeXXX Ed. A 'Yes' vote in the committee would have sent it to the full Senate for continued consideration.
If you are among those parents, faith leaders or organizations who called, wrote or took the time to go to the hearing on January 15th in person, Thank you for supporting this bill.
Following hours of compelling testimony by Senator Morrell, witnesses and parents from around California, Sen Connie Leyva, chair of the Senate Education Committee, recommended a "No Vote" leading to a 5 - 2 defeat along ideological and party lines.
And it appears the Democrats were willing to say nearly anything to bring about it's defeat.
Those depending on the complete story from the media missed a pivotal moment in the discussion where Sen Leyva revealed either a complete lack of awareness of the subject matter at hand, or an outright mis-representation of a key provision of the proposed bill: Changing 'Opt out' to 'Opt In'.
Leyva said "Every elementary school, er, district, in the state has the opt-in right, so they already have that right … it's in the education code. If you read it you will see it." She chided the parent that actually wrote the language for the bill.
Senator Morrell corrected Leyva, stating that "this bill places the opt-in into the education code for elementary, K through 6th".
In a condescending retort to Morrell, Senator Leyva doubled down saying "It's already there, Senator Morrell". But it's not, Senator Leyva.
In another stunning statement further demonstrating a total lack of awareness, Sen Leyva attempted to leverage a personal story about her twin daughters, now 27, who had sex education in public schools, saying she didn't feel their sex education was age in-appropriate and that curriculum was available for her inspection.
Apparently she forgot, or ignored, that the curriculum at the center of parent's concern at the hearing wasn't even authorized and developed until 6 years after her daughters left high school. Someone please hand the Senator a calendar and let her know these new curriculums parents are protesting have been implemented long after her daughters left high school.
While this latest attempt to right a legislative wrong failed, parent's need to stay vigilant and monitor both the curriculum and the materials being used throughout their children's education.
*
*
*
(And tune in to "The Jen and Don Show" weekdays at 5am and weeknights at 6pm, right here on AM590 The Answer. CLICK HERE FOR THE SHOW'S PAGE)